The Airports welcome more than two million passengers in two months
2019 is already proving to be a year of growth, as Phnom Penh maintains a steady increase in passengers and Sihanoukville flourishes.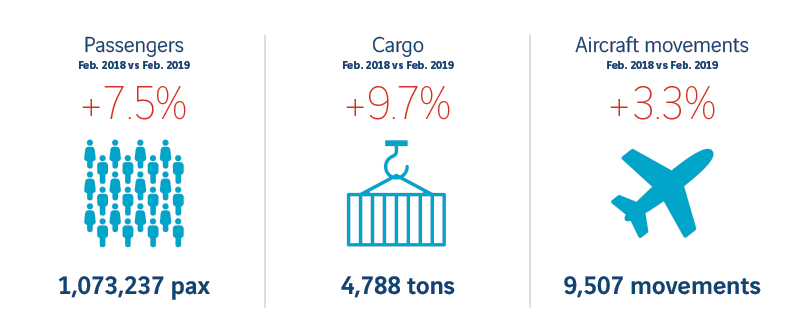 In the first two months of the new year alone, Cambodia Airports has already welcomed upwards of two million passengers to its three airports. Phnom Penh remains Cambodia's most popular flight destination, as the Phnom Penh International Airport welcomed more than half a million passengers in February alone – reflecting a growth of nearly 14% from the same month the year before – and saw an increase of almost 10% in total cargo imports and exports. As local airlines have begun flying internationally out of Phnom Penh to destinations within Southeast Asia and China, and as international airlines have continued to expand their service to the Kingdom's capital, Phnom Penh International Airport continues to grow and benefit from increased tourism in particular, and increased air demand in general.
Service to Siem Reap has dropped slightly in comparison to last year: the city's airport welcomed approximately 40,000 fewer passengers this February than last, reflecting an 8% drop from 2018. The slight dip in growth has likely been influenced by several factors, including a reduced number of charter flights on offer to Siem Reap from China as well as the ceasing of several regular flights to the city. Beijing Capital Airlines has ceased operations to Siem Reap from Haikou; Hainan Airlines has stopped operating flights to the city from Guangzhou; Spring Airlines has ceased flying to the city from Guangzhou, Shanghai and Ningbo; and Xiamen Airlines has stopped flights to the city out of Fuzhou. Bangkok Airways and Air Asia have also reduced their number of flights on offer to Siem Reap International Airport.
While Siem Reap's activity shrinks slightly, Sihanoukville continues to grow rapidly. With a slew of new flights on offer to the city, Sihanouk International Airport welcomed an increase in passengers of almost 106% this past month in comparison to the year before. Thus far this year, the once sleepy port town has welcomed nearly 200,000 passengers, a 114% increase from the same two-month period in 2018. Overall, all three airports welcomed an average increase of 7% in passengers and almost 10% in cargo this past month. The first two months of 2019 also saw a 9% boost in average growth from the same period last year.
Follow Cambodia Airports on Facebook: www.facebook.com/cambodia.airports/