Subscribe to our Newsletter and follow up all developments at our 3 airports.
Volume 02 / May 2018
Welcome to the second issue
of our newly designed e-newsletter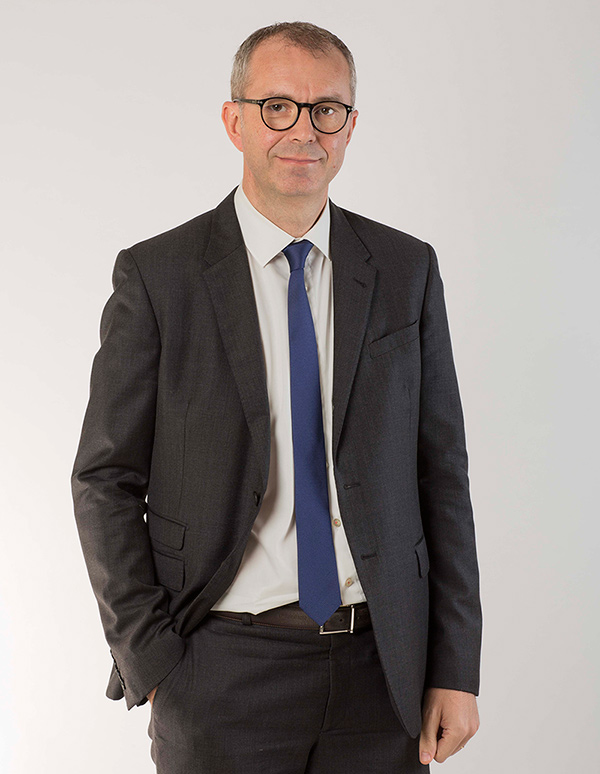 Body:
Air traffic is booming in the Kingdom. As it surges, new shops have been opening at all three of our airports, expanding options for dining, shopping and services. At Cambodia Airports we are continuing to improve the quality of service for all passengers, airlines and concessionaires.
Connectivity to Phnom Penh International Airport has also improved with a new rail link to the city center. Over the last 6 months the capital's airport has benefited from the debut of both bus and train shuttle services, which will reduce traffic congestion.
The vitality of our Corporate Social Responsibility program has also been on display with a photography exhibition at the French Culture Institute. CSR is part of the DNA of our business model and we credit it with our remarkable success. Cambodia Airports is proud to demonstrate once again our commitment to promoting the Kingdom's artists. We believe creativity is integral to Cambodia's development as well as our own.
We look forward to your questions, suggestions and feedback.
Eric Delobel,
CEO of Cambodia Airports
Traffic data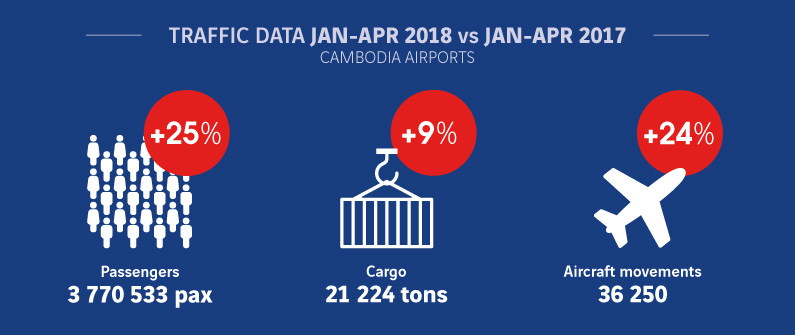 Growth continues to surge at double-digit rates at all three of Cambodia's international airports
New routes are helping drive passenger growth, which has surged 58 percent in Sihanoukville, 33 percent in Phnom Penh and 15 percent in Siem Reap during the first four months of 2018.
Read more
---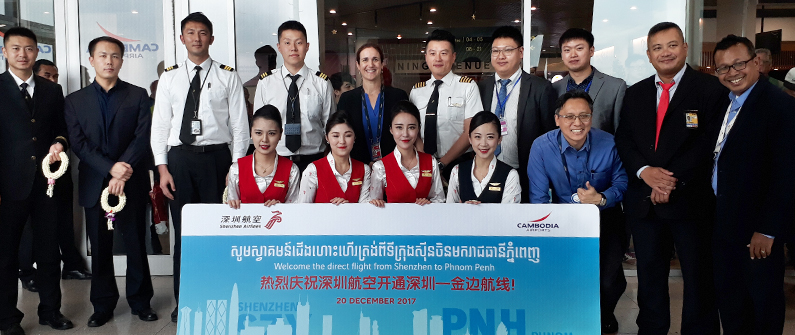 AIRLINE OF THE MONTH
Shenzhen Airlines is linking Phnom Penh to major cities in China's Pearl River Delta and beyond
The Star Alliance member has been a leader connecting Cambodia to China's largest cities, boosting tourist as well as business arrivals.
Read more
---
Dining and shopping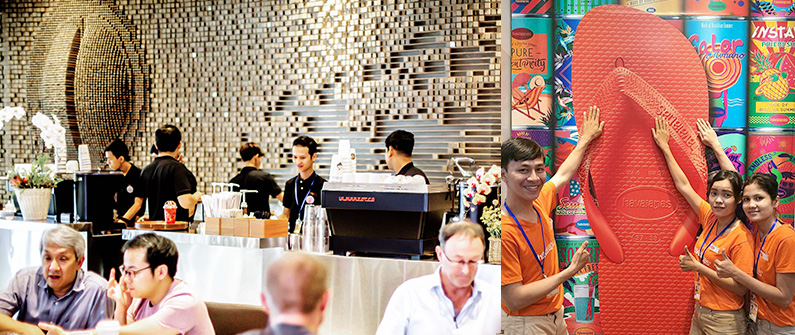 Fusion of global and Cambodian brands continues with arrival of Brown Coffee and Havaianas
Local coffee and pastry shop joins Phnom Penh Dining Avenue, while world's most popular sandal brand adds outlet in Phnom Penh.
Read more
---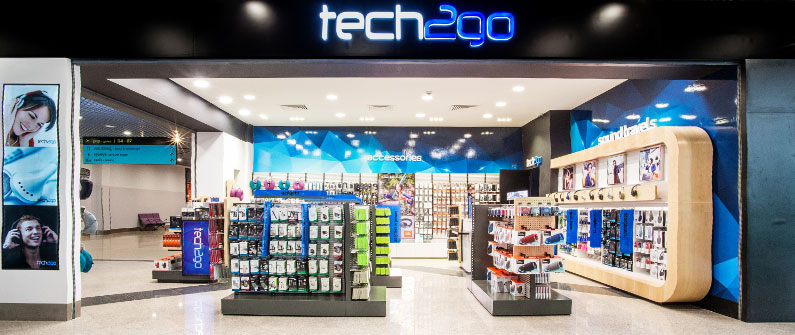 SHOP OF THE MONTH
Tech2Go in Phnom Penh International Airport
The successful debut of Tech2Go sends a signal that Cambodians are embracing new technologies as the country becomes increasingly digitized.
Read more
---
Milestones and events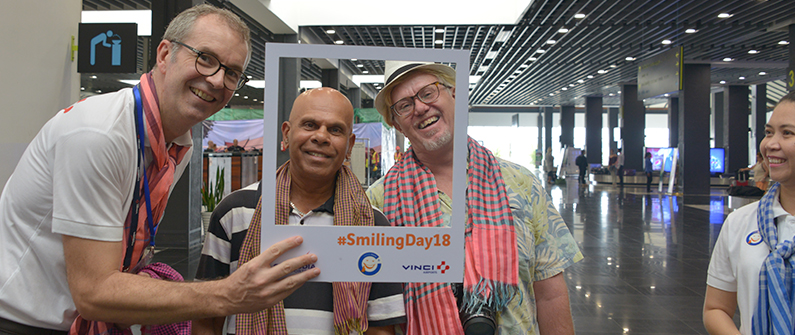 Smiling Day highlights customer service and greetings
Passengers welcomed with traditional Cambodian greetings, free kramas, as staff demonstrate commitment to service.
Read more
---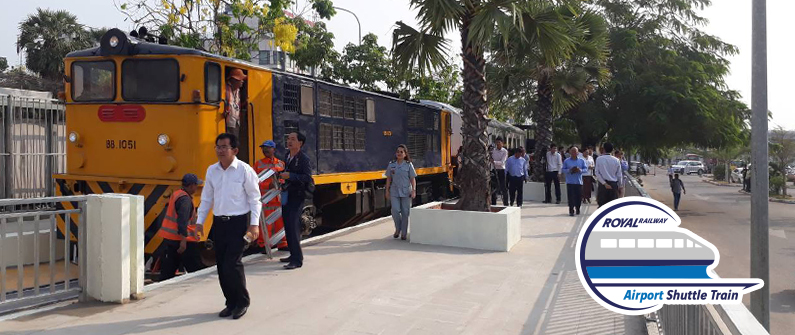 Shuttle train debut links city center to Phnom Penh International Airport
Transport minister hails new service as Cambodia Airports increases convenience with check-in booths at train station.
Read more
---
Corporate Social Responsibility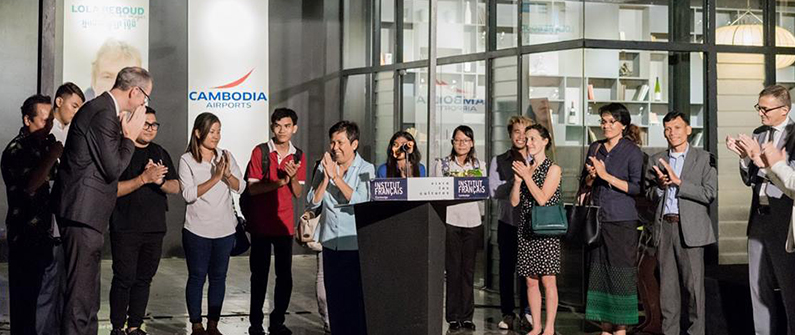 Cambodia Airports continues to promote local artists with international training and exhibitions
Photography show at French Culture Institute depicts Phnom Penh at its most intimate and iconic.
---
---
Subscribe to our newsletter