TRAFFIC TRENDS
An opportune time to fly in Cambodia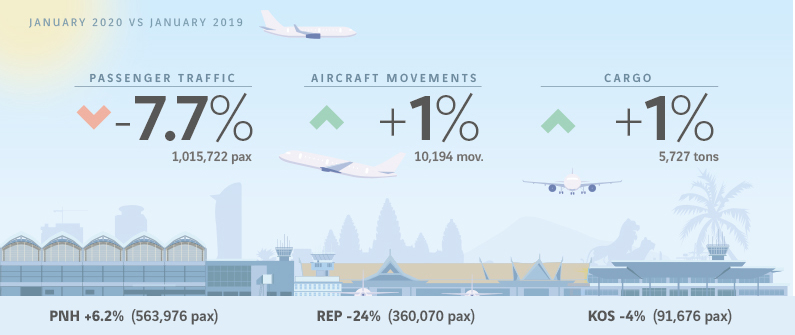 We are facing a difficult path as the Coronavirus cases increase globally. The aviation sector in Cambodia has demonstrated resilience as both the year and the epidemic started. We continue to have on-time flights, offer new routes, and maintain the comfort and security of our passengers.

Awarded for an entire year of good timing
All Nippon Airways (ANA) gave Phnom Penh International Airport an award for "On Time Performance for 2019". The award came straight from the people most in the know about timely flights – ANA's operation center and station manager. Pleased, the airport responded that "airlines' recognition of our daily endeavor to meet their requirements are always a great motivation for our teams to perform even better!" 
Phnom Penh fared well in January with a 6.2% increase in traffic.

Korean Air connecting Seoul to Siem Reap
Aiming to bring a mutual exchange of passengers and cultures, Korean Air launched a temporary direct route between Korea's capital city and Cambodia's ancient temples destination. In place through the end of March, the direct service will provide Korean tourists an easy path to discovering the wonders of Angkor as well as Siem Reap's lush boutique hotels and high-end restaurants. The increased traffic will be sorely needed as Siem Reap has once again seen a drastic reduction in passengers, down 24% in January.

Coronavirus affects load factor
As the epidemic traveled the world over during the month of January, potential passengers have been avoiding stepping onto planes. China, where the largest tourist population to Cambodia comes from, is the epicenter of the disease. The nation has closed its borders and restricted citizens' movements while it tries to prevent the disease from spreading. With this in mind, one can understand why Sihanoukville's perennial uptick in numbers has taken a 4% dip this January. Numbers are expected to rebound as the virus is curtailed.
Follow Cambodia Airports' activities on Facebook.