Angkor Tea: Taste the Kingdom
The brand recently began selling its high-quality, locally-produced teas from a cart in the capital's airport.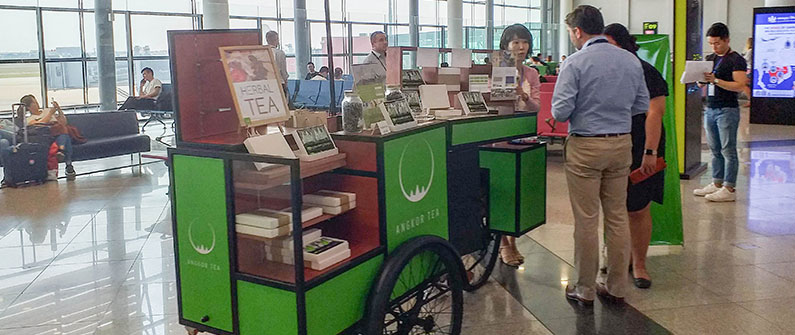 There's a new type of store popping up in Phnom Penh International, and it's on wheels.
Angkor Tea, a brand owned by Cambodia-based company Roselle Stones Khmer, has begun peddling its high-quality, locally-produced herbal teas from a three-wheeled cart designed by Cambodia Airports. Painted in a pale green, the cart displays Angkor Tea's insignia of the iconic spires of the Angkor Wat temple and carries unique goods for travelers to purchase.
The cart's Angkor Wat-shaped tea bags, filled with hibiscus or butterfly pea flavors, and its blue butterfly bags are among the biggest fan favorites on offer. The flavorful and colorful herbs in every bag are grown locally, and some are even produced on local school grounds in Cambodia's provinces, to the economic benefit of the schools and their students.
Established by two Japanese nationals, the company's goal is to promote Cambodia's natural beauty and fresh goods around the world--and there are few better ways to do this than to offer these natural products to those traveling through Cambodia's airports.
Stop by the cart at its location next to the Starbucks inside of the International Departures Terminal, where it is open from 6:00 am until the last flight of the day, for a free tasting of Angkor Tea and a chance to buy these high-quality products as delicious and sophisticated souvenirs.
Cambodia Airports also welcomes other vendors to similarly put their wares on wheels in the future, as other stores look to Angkor Tea's success as a leading example and choose to customize the Airports' carts to fit their needs.