Cambodia Airports builds partnerships to create better roads
For the past two years, Cambodia Airports has been working with the AIP Foundation, an international nonprofit dedicated to decreasing road crash casualties, to create an internal road safety policy for the airports.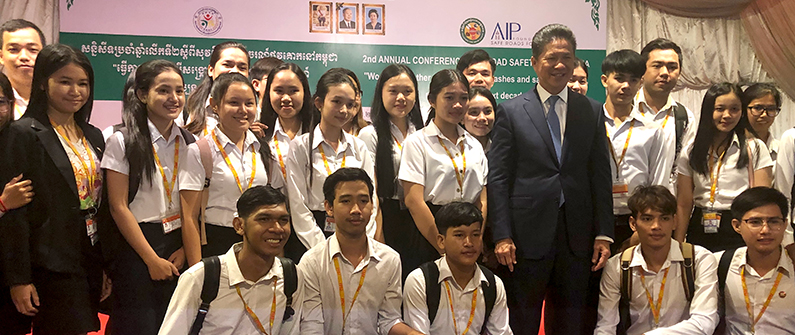 This partnership has recently led to two forward-looking developments: a road safety conference in Phnom Penh and an agreement with the Cambodian Red Cross.
Cambodia Airports was one of the sponsors for the 2nd annual conference on road safety along with AIP, the National Road Safety Committee and other partners, in order to develop a national action plan. Speaking at the event, the Minister of Public Works and Transport Sun Chanthol, who is also vice-chairman of the National Road Safety Committee, said that the relevant government institutions are committed to strengthening the implementation of the road laws. 
Together with the Red Cross of Cambodia, Cambodia Airports has signed a memorandum of understanding to promote road safety for two years through trainings and brochures that target two major risk areas: helmet use and drunk driving. 
Safety has been an increasing concern across the nation as more motorists are on the roads. In July the fine for driving a motorbike without a helmet increased to 15,000 riel and drivers are not allowed to continue after being stopped. As part of the Airports' own developing internal policy, a rule was implemented starting August 5 that airport partners and staff who arrive to work without a helmet would not be allowed to park at the staff car park on airport premises. The tagline is "No helmet, no parking."
Cambodia Airports signed a partnership with the Cambodian Red Cross under its Youth and Road Safety Program. Through the program led by the CRC, Cambodia Airports actively takes part in actions at the grassroots level aiming at engaging with youngsters. Road safety is a societal challenge, and we all must align our objectives. Alone, the task is an uphill battle.