Continued trend of growth through the start of the new year
January saw an average increase in traffic as several new routes carried more passengers to Cambodia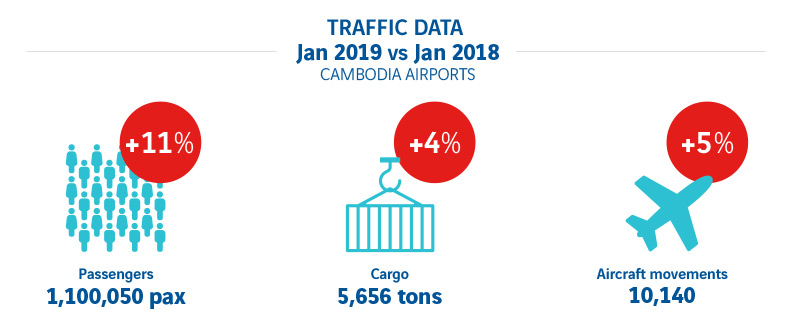 Phnom Penh International Airport saw considerable growth this January in comparison to the last, with a 19% increase in number of passengers and a 7% increase in cargo. The airport is likely benefiting from the various new flights that have begun servicing the capital: Air China's recent launch of direct flights to Beijing, the 14 additional flights, compared to the same month in 2018, offered by Xiamen Airlines, and local carrier JC Airlines' increased domestic flights have all proven to increase foot traffic in Phnom Penh International Airport.
Sihanouk International Airport saw an impressive 123% climb in passengers this past month, proving yet again to be the fastest-growing of all three airports. Sihanoukville has benefited from increased tourism, which has attracted multiple airlines to increase their routes to the port city. Air Asia has begun offering three more weekly flights to the city from Kuala Lumpur for a total of seven each week, new Chinese carrier Zhejiang Loong Airlines has begun offering two flights a week to the city from Wenzhou, and more charter flights are now on offer from JC Airlines and Sky Angkor.
As flight frequency to both the capital and Sihanoukville have increased, however, Siem Reap has seen a decrease in routes offered, as routes offered by various different airlines to Hong Kong, Beijing, Taipei, Chengdu and Shanghai have been canceled. The cancellation of Bassaka Air's domestic flights has had a significant impact on Siem Reap's airport activity as well, and other local airlines have begun offering fewer chartered flights to China from Siem Reap this past month than the year before. As a result, this January saw a slight decrease of 6% passengers.
Overall, the airports are seeing an average increase in activity, with number of passengers growing as the new year starts off strong.