Delightful Desserts: A Delicious Success
Passengers enjoyed a taste of Asia's most delectable dishes at Cambodia Airports' fifth annual food festival.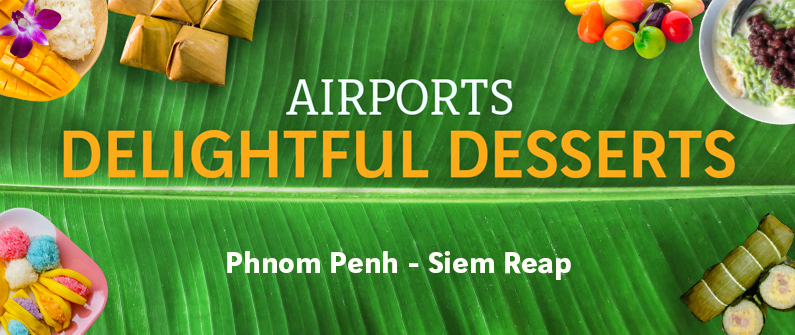 Baskets of wrapped Nom Ansom greeted guests as they entered the Delightful Desserts festival, free for the tasting.
As a traditional Cambodian dessert, many locals grow up cooking Nom Ansom with their mothers and aunts. The process is well known across the Kingdom: soak the rice, cut up morsels of fruit, and wrap all ingredients inside freshly-cleaned banana leaves before steaming the dish until it is permeated by a sweet, fruity flavor.
A favorite during the Cambodian holidays, it is a dessert steeped in culture and history.
In an effort to promote local dishes like these, and to spread awareness of Asia's most delicious and underrated desserts, Cambodia Airports hosted the fifth annual Delightful Desserts event in partnership with EMCAT, the airports' food and beverage operator, late last month.
Custards, layered cakes and local fruits were on offer to passengers traveling through Phnom Penh during the four-day event, which started in the capital on August 20. A few days later, the same festival began in Siem Reap, offering tasty treats beginning on August 23.
Since the launch of the first Delightful Desserts event in 2014, the festival has grown considerably in amount of participation and local flavor. Taking place during the low tourist season in Cambodia, the event has helped boost sales while promoting awareness of the food options available at Cambodia's airports and drawing attention to Asia's sweetest treats.
For more information about Cambodia Airports' events and activities, please visit our Facebook page: www.facebook.com/cambodia.airports