DESTINATION OF THE MONTH
Doha: A city "Qurated" for inspiration
Take advantage of Qatar Airways' daily flights through Vietnam to explore, celebrate and eat in Qatar's capital.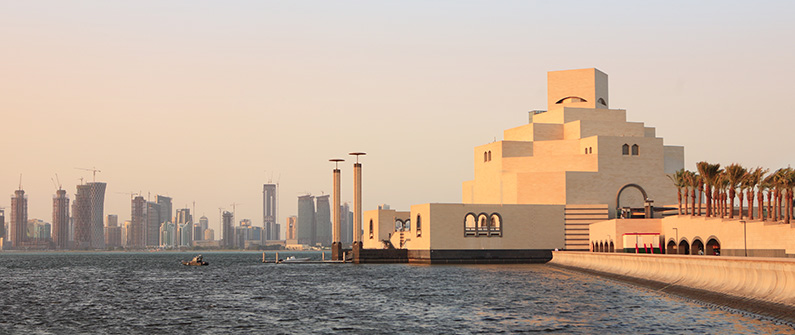 A land of cultural and natural treasures, Doha has something to offer every kind of traveler, from the yacht-lined marinas of its Pearl-Qatar island to the award-winning collections at the city's Museum of Islamic Art. Home to year-round sunshine and an extensive coastline, Doha provides the perfect backdrop for a culture-rich vacation spent exploring, shopping, eating, and relaxing by the beach.
A maze of shops offering spices, fruits, perfumes and handicrafts are nestled in the city's traditional market of Suoq Waqif, where architecture and culture collide and traditional music and art are on display. The city is also home to dynamic contemporary architecture: at the National Museum of Qatar – designed by world-renowned architect Jean Nouvel, and scheduled to open to the public on March 28 – visitors can take part in an interactive experience that tells the history of Qatar via new, experimental technologies.
For those interested in exploring beyond the heart of the city, local tour operators offer excursions of every kind, covering local culture, sports, and the great outdoors. Go deep into the desert to find Al Zubarah Fort, a UNESCO heritage site that was once home to the most thriving trading centers in the Middle East, or experience the remarkable natural wonder of the "Inland Sea," where the sea water laps at a sandy desert shore.
Experience Doha today: there are daily flights on offer through Ho Chi Minh city, and travelers can be in Qatar within 11 hours from take off.
More information about Qatar: www.visitqatar.qa
Book your flight: www.qatarairways.com/