DESTINATION OF THE MONTH
Meander through Manila
Hop on any of the five weekly flights to Manila from Phnom Penh to enjoy hundreds of Filipino attractions in Manila and beyond.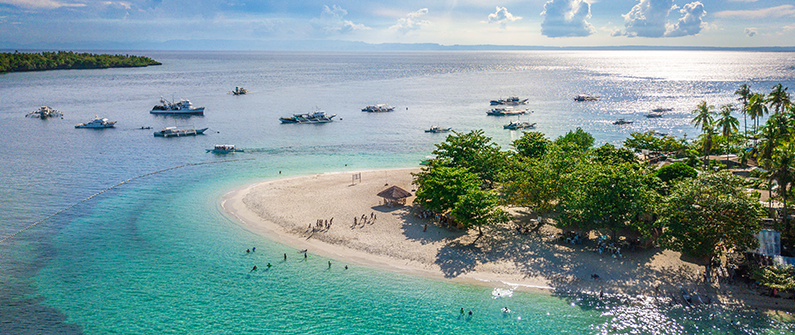 There are countless diverse landscapes across the Philippines, as it is made up of more than 7,000 islands: from powder-white beaches to dense rainforests and cityscapes to volcanic mountains, it would take more than 20 years to see the entire country if you tried to visit one island each day.
As the capital city of the Philippines, Manila is a bustling hub of activity that is simultaneously a cultural, shopping and nightlife hotspot for tourists and locals alike. A city of Spanish colonial architecture, delicious street foods and endless museums and art galleries, there is no better way to introduce yourself to Filipino culture than by a visit to Manila.
On the streets of Manila, travelers can see hundreds of jeepneys, the iconic mode of transportation around the country; often painted in colorful designs, these collective taxis were created from army jeeps abandoned after WWII. Take a tour of the city by jeepney, bicycle or car to experience the oldest Chinatown in the world, eat at a famous degustation restaurant, or visit the aquatic-themed Manila Ocean Park or Manila Zoo.
The capital city is also the perfect base for travel to other areas of the country, including the heritage town of Taal where fine architecture awaits; the city of Anilao for a day spent diving and snorkelling; or a trip to Mount Pinatubo for a view of the volcanic moonscapes and scenic crater lake.
More information about the Philippines: http://www.tourism.gov.ph/phil_destination.aspx
Something for everyone: Philippine Airlines' top spots to see in Manila
For first time travelers, we have a few suggestions for making your trip to Manila as memorable as possible. 
1/ Take a walk through history
If you enjoy soaking in heritage and experiencing the arts, you must visit Rizal Park, a historical urban park situated on Manila Bay that is as steeped in history as it is frequented by modern day families and friends in search of leisure. Adjacent to the park is the famous old walled city of Intramuros, which served as the seat of government and political power in the city when the Philippines was still under the Spanish Empire, and which all visitors should also see.
2/ Flit from one renowned museum to the next
Manila also has a wide range of world-class museums: the National Museum of the Filipino People is the place to go for pre-colonial era history, the Ayala Museum offers four floors of artefacts and art shows, and the Rizal Shrine Museum is dedicated to the extraordinary life of national hero Jose Rizal, whose execution by the Spanish inspired the country's revolution. The National Gallery of Art is a must-see for lovers of 19th century painting, and the Metropolitan Museum of Manila is renowned for its contemporary collection.
3/ Shop, shop, shop 'til you drop
For shoppers, a trip to the Mall of Asia is a must: more than just a shopping center, this mall has become a tourist destination that has raised the standard of shopping, leisure and entertainment in the Philippines. Greenhills Shopping Center, a 16-hectare shopping mall complex in San Juan, is also a sight to see: opened in the early 1970s, it has been a destination for bargain hunters ever since, as shoppers can scour the more than 2,000 stores for the best deals and good eats.