Growth continues for Cambodia's capital and coast
Chinese travelers are driving overall growth across Cambodia's Airports, while Sihanoukville sees the benefit.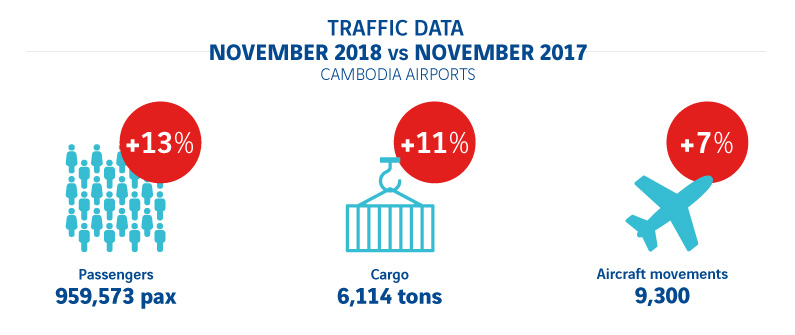 November was a month of considerable growth for Sihanouk International Airport, which welcomed upwards of 80,000 travelers—a 150% increase in foot traffic from the same month last year. Phnom Penh International also welcomed growth, as it celebrated a 23% increase in passengers and a 13% increase in cargo.
Siem Reap International, however, saw slightly fewer passengers in November than during the same month last year, experiencing an 8% drop. Though local airlines carried fewer people to Siem Reap, they opened their routes to Sihanoukville and carried far more passengers to the growing coastal city than ever before. Chinese cities including Macau, Guangzhou, Chengdu and Fuzhou—which used to see the bulk of their travelers to Cambodia landing in Siem Reap—now see a growing number of their traffic also directed to Sihanoukville.
More connections to the capital are also being developed as Spring Airlines, a popular Chinese carrier, recently opened multiple routes to Phnom Penh Airport. As the airline used to land only in Siem Reap, the opening of new services has helped increase foot traffic in the capital.
Chinese travelers have been driving the increased foot traffic across Cambodia's airports. Meanwhile, the numbers of Korean and Japanese travelers to the Kingdom have declined significantly. Regional travel has also decreased, as there have been fewer travelers from Laos, Vietnam, and the Philippines this year than last.
Follow Cambodia Airports on Facebook: www.facebook.com/cambodia.airports