Growth continues through the slowest months of the year
Traffic through Cambodia's airports continues to increase despite the Kingdom's low season.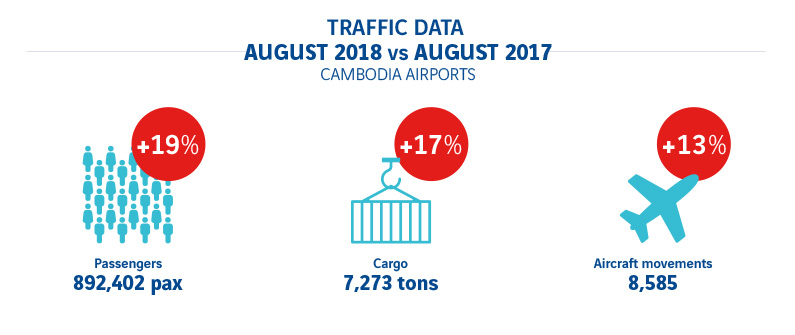 As we enter the second half of the year, overall growth at our airports continues despite the slow tourist season.
August again saw rapid growth at Phnom Penh International Airport, with an average increase of 23 percent activity in both cargo and passengers compared to the same month last year.
While Siem Reap saw a slight dip in activity, new flights and routes to Sihanoukville saw the coastal airport experience a landmark passenger increase of 55 percent last month. Overall, traffic through all three airports increased by 19 percent and cargo grew by 17 percent in August.
This past month's successes were in keeping with the consistent growth that has been evident throughout 2018, with the first seven months of the year seeing an average of nearly 20 percent growth across all airports and activities in comparison to the same period last year.
This bodes particularly well for the upcoming tourist season, which promises to be a busy one as Cambodia Airports works closely with the private and public sectors to help consistently increase tourism to the Kingdom.