International tourism drives airport activity in Phnom Penh and Sihanoukville
For the first time, March saw Cambodia Airports serve more than a million passengers – a 12% increase from the same month last year.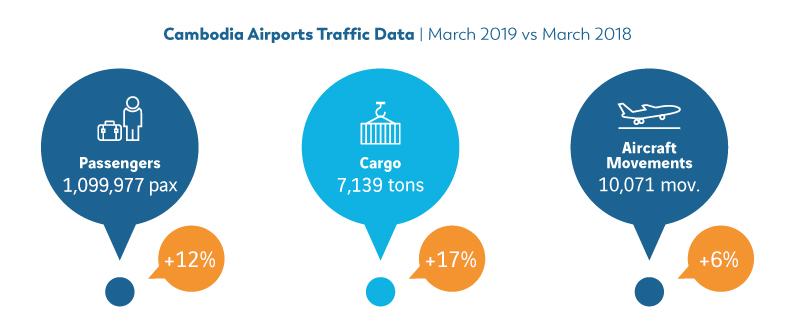 More than three million travelers have passed through Cambodia's Airports in the first  quarter of the year, increasing overall growth by 10% from the same three-month period last year. Phnom Penh International Airport welcomed 543,601 passengers in March alone, reflecting 14% growth from the same month last year and contributing to the overall quarter growth of 16% at the capital's airport in comparison to 2018.
Siem Reap, which has seen slightly fewer passengers this year on average than the last, actually welcomed the same number of passengers in March this year as it did in the same month last year. Over the course of the quarter, Siem Reap has seen approximately 107,000 fewer passengers than it saw in the same time frame last year.
Sihanouk International Airport has continued its astounding growth: in March the airport welcomed almost 127,000 people, a steep increase of 186% from the 44,351 passengers it saw in the same month last year. Over the course of the first quarter, the coastal city has attracted more than 326,000 international passengers to reflect a 137% boost in growth from 2018.  At the same time, domestic travel to the city has dipped slightly over the three-month period by about 3%.
This is a trend that can be seen on average across all airports during March and throughout the first quarter of 2019: while international travel continues to boom, the number of domestic passengers has decreased by -0.04% in March and by -1% in the first quarter, illustrating that international passengers are a driving force for the airports' growth.
Follow us on Facebook: www.facebook.com/cambodia.airports