More awards for our employees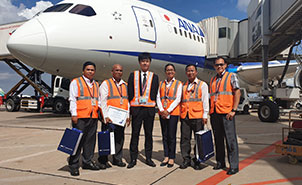 ANA knows quality when it sees it: Four airport employees awarded 
We are so proud of our employees – and once again it's been proven that others are, too! All Nippon Airways has awarded four Ramp Coordinators with the Ramp Safety Award for their consistently reliable, timely, and safe work performance.
In the past two years, Oum Vanna, Reth Phourn, Thay Teng Aun, and Meas Thoeun have had zero safety issues while handling NH818 a number of 184, 107, 104, and 103 times, respectively.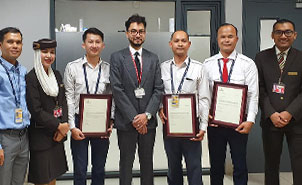 Emirates recognizes grace under pressure and greatness
This summer there were two flight disruptions that could have been more troublesome had it not been for the hard work of Cambodia Airports staff members – something that Emirates Airlines recognized as they publicly thanked the on-site manager, ground handling agents, load control agents, and members of ramp operations for a job well done.
The airline also awarded Oeung Rotha for her excellence as a queue ambassador – the team member who organizes passenger flow before the check-in counter. After a three-month evaluation, the airline deemed her the best in terms of quality of service and awarded her the title "Queue Ambassador Champion."