Runway Resurfacing at Phnom Penh International Airport is Complete
The six-month project has improved the durability of the capital's runway in advance of increased traffic.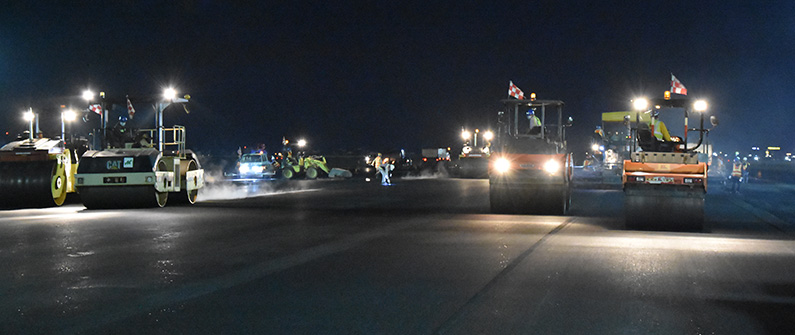 On May 12, Cambodia Airports initiated a $12 million runway resurfacing project at Phnom Penh International. The renovation of the runway, which covered 180,000 square meters of pavement, was completed on October 29, and the mechanical and electrical work on the runway was completed this month.  
Runways are constantly exposed to the weight, heat and friction produced by planes at both take-off and landing, so they need to be durable. To improve the performance of the capital's runway, Cambodia Airports utilized leading technologies -including polymer modified asphalts (PMAs)- to increase the asphalt resistance to fatigue, thermal cracking, and deformation.  
A brand new asphalt plant and a host of equipment were also brought to the construction site to ensure the project's high standards. As a result, the new runway is expected to last a minimum of 10 years' time without need for significant maintenance, even as traffic continues to increase at a rapid rate in the Kingdom.  
The project also saw new line marking and an upgrade of the runway's ground lighting to incorporate use of LED bulbs, which reduce carbon emissions and align with the airport's ongoing commitment to protect the environment. 
The airport remained open throughout the project--a feat which required coordination and extreme responsiveness. Fewer than five flights were delayed, cancelled or otherwise affected as a result of this construction.  
The Phnom Penh runway renovation was completed just about a year after the Siem Reap runway resurfacing project was undertaken in late 2017. Cambodia Airports has also begun work on an additional project for strengthening and extending the runway at Sihanouk International Airport, which will be complete next year.