SHOP OF THE MONTH
Convenience at its best: Circle K opens first landside store in the capital's airport
The convenience store now offers a wide range of food options and imported products at its new airport location in Cambodia – accessible to all and open 24/7 to serve customers all day, every day.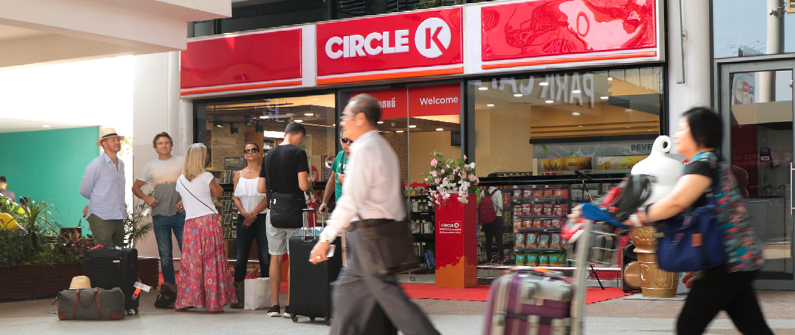 On April 12, the world-renowned convenience store franchise Circle K began operations in the Phnom Penh International Airport - officially becoming the first landside convenience store to sell in Cambodia's airports. The new store is located at the arrival esplanade, near to the new dining gallery, and is the only business at the airport to be open 24 hours a day – a great convenience to travelers catching the first or last flights of the day.
Circle K, which also goes by the name of OK Mart in some Asian markets, announced its entrance into Cambodia in 2017, with an aim to open 300 stores nationwide within the decade. The chain, which now has more than 20 stores in Phnom Penh, specializes in offering ready-to-eat foods, including country-specific treats developed for Cambodian customers, as well as imported products, bill payment and phone top-up services.
The decision to open locations in Cambodia's airports was a natural one, explained Steven Yos, executive director of TH CVS Co. Ltd, the operating partner for Circle K in the Kingdom.
"The convenience store is a traveler's best friend," he said. "Oftentimes, travelers will forget to bring along the things they need - and we can be their lifesaver. Having Circle K there when they arrive will make many travelers feel at home, and create an even better image for Cambodia."
The chain hopes the new Circle K location will meet the needs of the thousands of travelers who pass through the capital's airport each year, and is currently eyeing opportunities to open additional locations within the airports in the near future.
More information: http://circlekcambodia.com
Facebook page: www.facebook.com/circlekcambodia/