SHOP OF THE MONTH
Senteurs d'Angkor: Creating Products that Capture the Essence of Cambodia
Visit Senteurs d'Angkor's three stores in Cambodia's airports for skillfully made local products that smell, look, and taste like the Kingdom.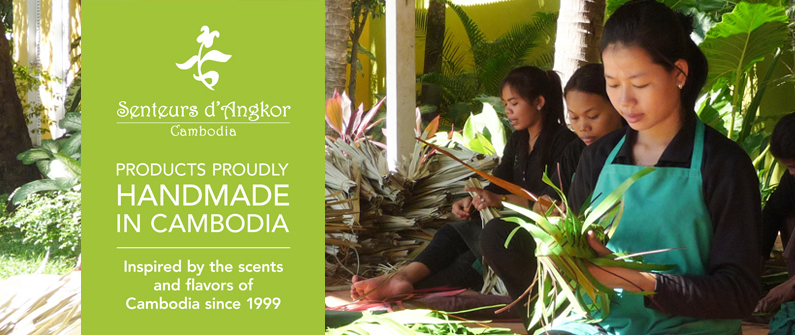 Established in 1999 by a Frenchman, Stephane Bourcier, who fell in love with the Cambodian culture, Senteurs d'Angkor first began as a retail shop in Siem Reap for handmade scarves, clothes, statues and jewelry that each carried some semblance of Angkorian influence. But the shop became most successful when, inspired by the scents and flavours of the Kingdom, it moved its production into making its own handmade products like soaps and candles, each made in accordance with Cambodia's long standing tradition.
The store's best sellers have rapidly become the natural soaps, balms and oils that carry with them the story of Cambodia. The Angkor Balm kit, for example, is made with a copper coin that is intended to help relieve pain, in accordance with traditional beliefs. The natural soaps undergo a traditional cold process, and are each imbued with Cambodian coconut oil. Both of these all-natural, highly traditional products have become best sellers.
"Senteurs d'Angkor owes its success to a strong belief in natural, handmade and Cambodian products," a representative for the store said. "We believe in tradition, in the quality of local ingredients and the genuineness of the Cambodian know-how that we keep promoting and highlighting through our shops and workshop."
Travelers can find Senteurs d'Angkor's products at its three airport locations, including two in Siem Reap International Airport – one in the international departure terminal and one in the domestic departure terminal – and a third in the Phnom Penh International Airport's international departures terminal. There are several promotions on offer: anyone who purchases more than $20 worth of goods are entitled to a free natural soap, and for several items, customers can buy four and get the fifth for free. Take a trip to one of their airport locations and be inspired by the scents and flavours of the Kingdom.
Opening hours: from 6.30am until midnight or last flight.
More information: www.senteursdangkor.com