TOP DESTINATION PICKS
Beaches, temples, caves, and cuisine: New routes to neighboring cities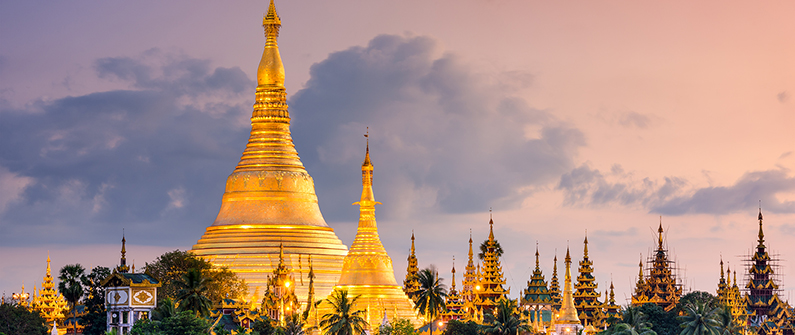 Glowing, glistening, gold – the Shwedagon Pagoda, one of Buddhism's most important sites, demands awe and admiration in Yangon's city center. Covered in gold leaf, diamonds, and other gems, the 15th-century stupa sits in the heart of Myanmar's largest city and commercial hub. 
Formerly known as Rangoon, Yangon is the nation's bustling business and arts metropolis, studded with lakes and parks and home to an ever-increasing number of restaurants, bars, and shops. Turquoise waters and white sand beaches on Myanmar's coast are a short one-hour flight away. 
Cambodia's JC Airlines now offers direct flights from Phnom Penh to Myanmar's cultural capital, making what was once a five hour (or longer!) journey into an hour and a half trip.
Direct flights to Yangon started August 17 and run three times a week: Monday, Wednesday, and Saturday. Roundtrip flights start at $310.
More information: https://tourism.gov.mm - Book your flight: www.jcairlines.com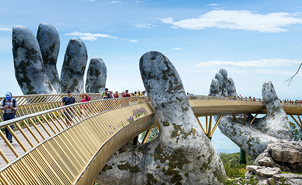 Da

Nang: A playground of Vietnam's nature and culture
The cultural hub of central Vietnam, Da Nang is known for its sandy white beaches, an abundance of food tours, and proximity to surrounding mountains, historical sites, and the quaint, neighboring seaside town of Hoi An. It is a destination for those who want to connect the region's copious natural beauty with its cultural antiquity, at a leisurely pace.
On the edge of the city are the Marble Mountains, five limestone peaks rife with caves, tunnels, and temples to explore. An hour away sits UNESCO World Heritage Site My Son Sanctuary, a collection of Hindu temple ruins from the 4th to the 13th centuries. 
A much newer addition to the region's tourist attractions was added in June of last year: a 150-meter golden pedestrian bridge that is seemingly held up by two large stone hands, nestled just above the trees of the Ba Na Hills.
Starting October 27, Cambodia Angkor Air will offer flights five times a week between Phnom Penh and Da Nang, which will become daily flights in summer 2020. Roundtrip flights start at $168.
Official Da Nang Tourism website: www.danangfantasticity.com