As Tourism Increases, Businesses Prepare for the Future
Several events held recently by PATA and CAMFFA aimed to help Cambodia prepare for guaranteed growth of passengers and cargo.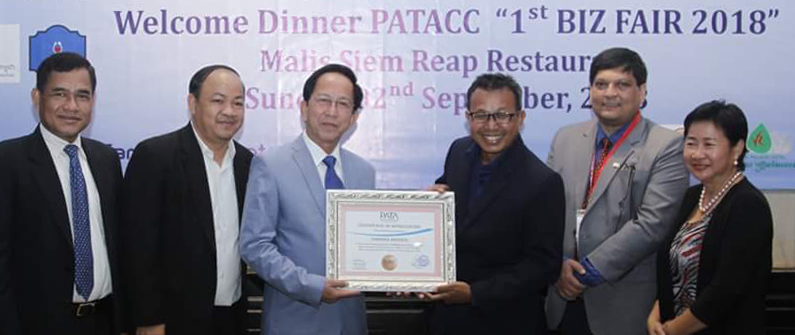 Tourism in the Kingdom continues to grow, with more than 3 million international tourists visiting Cambodia during the first half of this year alone. As foot traffic booms, so too has the frequency of cargo flights rapidly increased, with the country seeing nearly 50,000 tons of cargo imports and exports in the past year.
In an effort to prepare for an inevitable continuance of growth in the industry, both the Cambodia Freight Forwarders Association (CAMFFA) and the Cambodian chapter of the Pacific Asia Travel Association (PATA) hosted recent events to bolster the tourism sector.
The CAMFFA event, hosted in Phnom Penh on August 13, brought together key players in the air freight sector to discuss challenges and opportunities for local businesses in the industry.
The conference focused on a need for further digitization in the sector, with businesses offering greater e-commerce solutions for potential customers. Phnom Penh International's general manager Chloe Lapeyre represented the airports at the event, and set forth Cambodia Airports' plans to adopt paperless solutions for freight activity as she addressed the crowd of industry insiders.
Cambodia Airports also had the opportunity to sponsor the PATA Cambodia chapter's first two annual business fairs earlier this month, with airport officials attending the fairs in Siem Reap on September 3 and in Phnom Penh on September 5.
The events intended to boost tourism in Cambodia by inviting more than 70 local and international businesses to attend and connect with one another. Delegates from nine countries in the region were represented at the fairs, and each expressed  their desires to establish greater business ties to the Kingdom and promote Cambodian cities as prime travel destinations.
Through participation and sponsorship of events such as these, Cambodia Airports strives to maintain partnerships with local and international businesses whose shared goal is Cambodia's future success.
More information about CAMFFA: www.camffa.org.kh
More information about PATA: www.pata.org/chapters/pata-cambodia-chapter/