Traffic rising at double-digit rates as surge in tourists continues
Passenger, cargo and flight movement numbers continue dramatic gains, driven by a surge in tourist arrivals and robust garment exports.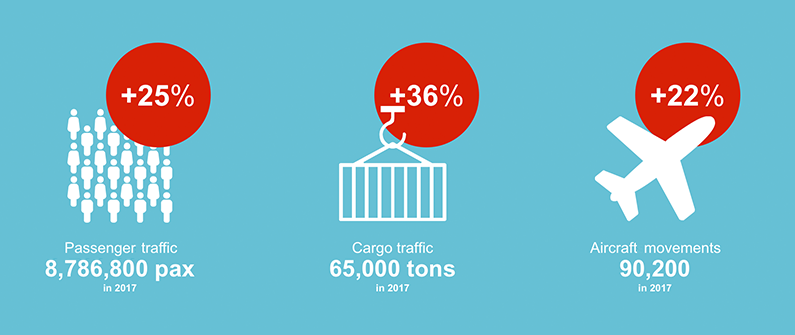 Last year 2017 saw the fastest yearly growth on record at Cambodia's three international airports, with passenger traffic reaching 8,786,800 — a 25 percent rise from 7,023,740 in 2016. The 33 percent surge in the number of Cambodians using our airports was even more dramatic, pushing the total above 1 million for the first time.
The growth in passenger traffic was 50 percent higher than in ASEAN overall, where it rose 17.7 percent from 2016 to 2017.  
Flight movements rose to 90,200, up 22 percent from slightly more than 73,000 in 2016, while cargo surged 32 percent to 65,000 tons. Sihanouk International Airport (KOS) saw the most dramatic growth in passenger traffic — 115 percent — from almost 157,000 in 2016 to 338,000 last year.
Increased flights, new routes and the arrival of more carriers were vital to achieving these numbers. Air Asia began four flights a week between Kuala Lumpur and Sihanoukville on August 8, while Emirates opened a new route linking Phnom Penh and Dubai via Yangon the month before. Four Chinese carriers opened new routes to Siem Reap and Phnom Penh, and two new domestic airlines – JC International Airlines and Lanmei Airlines – added domestic and international routes. Qatar Cargo and Etihad Cargo each added a weekly freight flight in April and May respectively.