TRAFFIC TRENDS
Cargo sees gains, passengers stay the same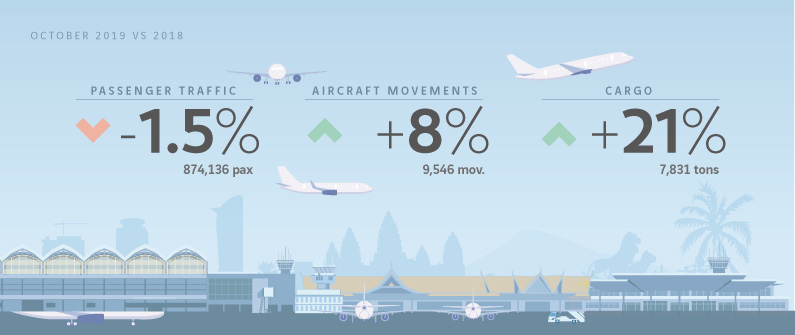 Same, same, and different: overall numbers for all three airports have stayed the course except Phnom Penh's cargo has bumped up the average.

Phnom Penh International supporting industry
If you look at the passengers numbers year-on-year to the capital, you'd think that everything is same same. But look down below –in the cargo hold– and you'll realize big things are developing! Phnom Penh International Airport is benefiting from huge increases in cargo traffic from Qatar Airways and Emirates in the Middle East as well as multiple Chinese airlines. Eva Air has seen a whopping 456% increase year-on-year due to its new Airbus A330 aircraft.

Sihanoukville's a regional darling
Flights from Sihanoukville to international destinations Bangkok and Kuala Lumpur, operated by Thai AirAsia and AirAsia Berhad respectively, have high load factors and are doing great! This is good news as the Thai AirAsia route only began in July of this year, and AirAsia Berhad's Kuala Lumpur route is maintaining its high load factor after having increased its frequency to daily operation. 
Domestic traffic is slightly lower than usual, but two airlines are standing out: Cambodia Airways' new service between the coastal town and Siem Reap is on the up, performing better than last month, and Lanmei Airlines' new route to Phnom Penh has a sturdy beginning with a 58% load factor.

Siem Reap airlines' gamble pays off
Two airlines that have weathered the downturn in traffic to Siem Reap and hung in where other airlines chose to cease operations, are now reaping the benefits. Cambodia Airways and Lanmei Airlines have more passengers, more seats, and are increasing their load factors. What's more, Lanmei has just launched a twice-weekly flight from Siem Reap to Shenzhen International Airport and is about to launch a weekly flight to Dunhuang International Airport for the winter.
Follow Cambodia Airports' activities on Facebook