AIRLINE OF THE MONTH
Four-star, low-cost airline Citilink launches first direct flights to Indonesia
Citilink recently became the sole carrier to operate direct flights between Cambodia's and Indonesia's capital cities.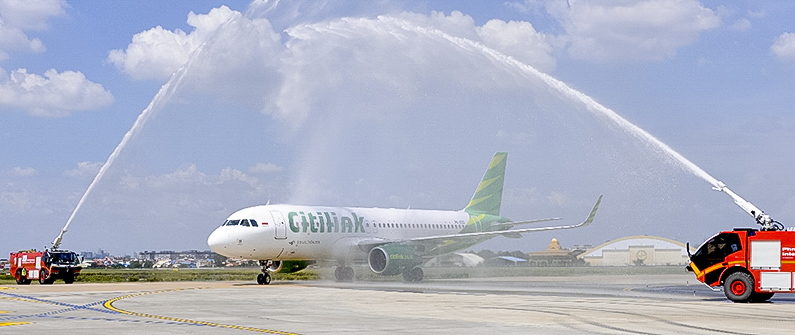 Trade and tourism between Cambodia and Indonesia has been on the rise for years; the number of Indonesian tourists who visited Cambodia in 2018 reached nearly 56.000, while Cambodia sent approximately 9,000 tourists to visit the island nation. As the Kingdom sets its sights on bringing in 6.6 million international visitors over the course of this year, the Indonesian market could be key in meeting – and even exceeding – this goal. 
With these ties growing ever stronger, Citilink is currently the sole carrier to directly connect the countries' two capitals, allowing travelers to take advantage of low-cost tickets on an award-winning airline with thrice weekly flights between Phnom Penh International Airport and Jakarta's Soekarno-Hatta International Airport.
While direct flights between Indonesia and Cambodia were operable prior to 1970, the two countries had not been linked for several decades before Citilink launched its service on June 21.The new regional route is the third international route launched by Citilink this year, in keeping with its commitment to expanding flight programs and encouraging tourism to Indonesia. 
The fastest growing airline in Indonesia since 2011, Citilink was recognized by Tripadvisor as one of the Best Low-Cost Airlines in Asia in 2018 and has been certified by both Apex and Skytrax as a 4-Star Low Cost Airline for its onboard product and staff service. Citilink serves more than 310 flights daily with 74 routes to 43 cities, and operates the Airbus A320, which can carry up to 180 passengers.
Regional connectivity grows as low-cost airlines extend their networks
Citilink is one of 11 low-cost airlines currently servicing Cambodia Airports. The others, which include Air Asia, Thai Air Asia, JetStar Asia Airways, Hong Kong Express Airways, Spring Airlines, Air Busan, Air Seoul, VietJet Air, Lucky Air, Cebu Pacific Air, and Lanmei Airlines, operate domestic, international and chartered flights alike. Together, these airlines create a network of low-cost flights that allows travelers in the Kingdom more access to exciting destinations across the region. 
More information: 
www.facebook.com/citilinkcambodia/ https://citilinkcambodia.com