Cambodia Airports teams up with long time partner Artisans d'Angkor at French Week
The relationship between Cambodia Airports and Artisans d'Angkor, which trains young Cambodians to preserve local culture, has resulted in dozens of airport artwork installations that capture the spirit of the country.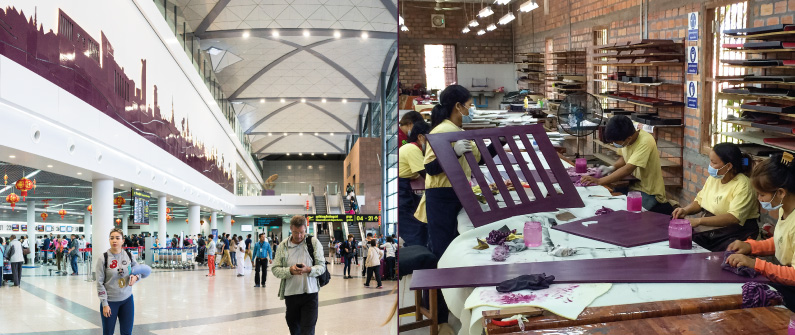 French Week, hosted earlier this month in both Siem Reap and Phnom Penh, celebrated the unique intertwining of French and Cambodian cultures with art, song and food. Cambodia Airports shared a booth with its longstanding partner Artisans d'Angkor at the French Week festivities, working together to spread information with festival attendees about their long term collaboration and discuss the special projects the artisans have installed at all three airports, which are now fully on display.
Established in 1992 by the Ministry of Education, Artisans d'Angkor began as a vocational training program for rural Cambodians, and has over time blossomed to employ more than 1,100 people, including 800 artisans who work in 48 workshops spread across Siem Reap Province.
Sixteen years ago, VINCI Airports, which operates each of Cambodia's airports, became a shareholder in Artisans d'Angkor, helping to expand the reach of the program. Cambodia Airports has since sponsored more than 45 masterpieces, with 15 located in the capital, 25 in Siem Reap, and five in Sihanoukville, each designed and prepared by the talented artisans program to be hung in the airports' terminals.
Artisans d'Angkor have been willing to take on incredibly time-intensive and large-scale projects that truly display their talent: the "Building Elephant" stone carving at Siem Reap International Airport was designed by 33 artisans and took more than 10,000 hours of work to complete, while the rattan sculptures hanging from the ceiling of Sihanouk International Airport in were handcrafted by 21 artisans and hung after more than 1,100 man hours. By sponsoring the installation of these masterpieces, Cambodia Airports strives to both promote localized artworks for its passengers to appreciate as well as support the artisans in their social mission for progress and cultural preservation in the Kingdom.
"Thanks to the support of Cambodia Airports, we have been able to revive and develop Khmer traditions, offer quality education on arts and crafts through training more than 2,500 people already, create sustainable employment in Siem Reap Province and help improve social conditions contributing to poverty alleviation by providing fair compensation packages," said Anne Laure Bartenay, Marketing and Commercial Communication Senior Manager for Artisans d'Angkor.
"We think it is important to work with the airports because we are the first and the last showcase of traditional Cambodian know-how that international visitors can see. In this way, we promote the revitalization of traditional Khmer arts and crafts," she added.
"Artisans d'Angkor is a perfect partner for Cambodia Airports, as they share our vision of preserving Cambodian culture and creating local jobs in the community," said Cambodia Airports CEO Eric Delobel. "Our corporate social responsibility policies are intended to make real, tangible change, and Artisans d'Angkor inspires just such progress."
As Artisans d'Angkor has put its masterpieces on display at the airports, it has also attracted several corporate clients who have commissioned dozens of works across Cambodia, including creation of majestic sculptures, interior and exterior design for hotels, and unique pieces for special events. No longer a small-scale program, the artisans are seeking out additional partners in the private sector who are interested in sponsoring the installation of their unique, polished, and thoroughly Khmer artworks.
More information about Artisans Angkor: www.artisansangkor.com