Celebrating Environment Week with the community
This year, Cambodia Airports spent the green week teaching children, spreading awareness and embracing new initiatives.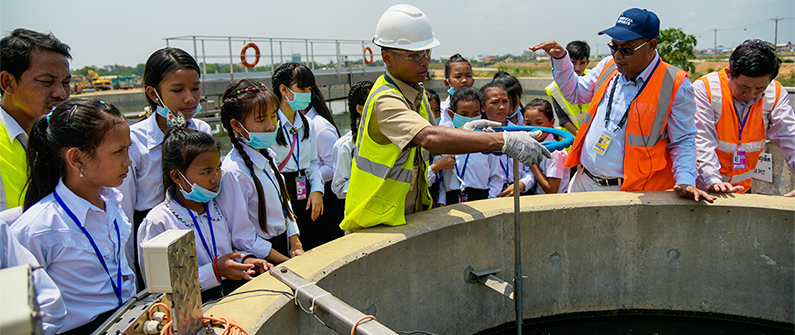 At Cambodia Airports, we care about the environment and work every day to help preserve it. World Environment Day, which took place on June 5 this year, provides the perfect annual opportunity for Cambodia Airports to celebrate green awareness. Over the course of a week this past month, we reached out to clients, partners and the local community to join our waste management efforts and encourage resource preservation. 
Change begins with the youth, and learning the importance of going green at an early age is crucial in establishing a sustainable future. With this in mind, we welcomed dozens of local school children to visit all three airports and join in a presentation on air pollution, while also learning about the many initiatives the airports engage in each year to help minimize their carbon footprint. The students then prepared a presentation on what they had learned to share with their classmates, which members of our Quality, Health, Safety and Environment (QHSE) team attended to provide support and answer any questions.
We are all in this fight for environmental awareness together, and our green mission is one shared by every member of our staff. As part of the festivities, each of the three airports hosted a friendly internal quiz for all employees, and most participants were able to ace the test on best environmental practices. 
"Like every industry, Cambodia Airports has been looking at reducing its impacts on the environment. Our objectives have been discussed within VINCI Airports strategy for the next ten years and will include further reduction of carbon emissions and wastes not only for our own activities, but also by working together with our partners, suppliers and clients," said Florent de Warren, QHSE Manager. "Our efforts are shared and further challenged with our local communities, and in particular school children who are always eager to learn and a source of motivation."
Cambodia Airports Goes Green
We at the airports are always looking for new ways to be more environmentally conscious, and World Environment Day gave us cause to take another step forward in embracing sustainability. In the green spirit, EMCAT, a long-term food and beverage partner at all three of our airports, made the decision to reduce – and eventually eliminate – single use plastics like straws and plastic bags. Passengers were able to share their thoughts on the initiative when it was announced on June 4, and all responded favorably to it. Alongside EMCAT, every restaurant and cafe in the airports has committed to using solely paper straws in order to reduce waste. 
More information about Cambodia Airports:
www.cambodia-airports.com or www.facecook.com/cambodia.airports