DESTINATION OF THE MONTH
Discover Dubai with Emirates
Take advantage of daily Emirates flights out of Cambodia's capital to enjoy Dubai's endless delights.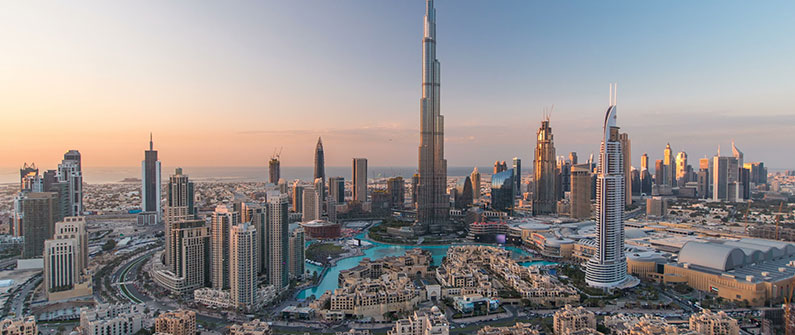 There are few views as stunning as those 828-meters high atop the Burj Khalifa, the world's tallest building. From the viewing deck, one can see all of Dubai splayed out before them.  
The city is a shopper's paradise, with the Dubai Mall alone housing 1,200 shops, over 150 restaurants, a massive theme park, and a giant aquarium. Next to the mall is Dubai's City Walk, where tourists can stroll down an avenue of shops, fountains, and playgrounds that stretches for more than 13,000 square meters. 
Visitors can also make their way to the man-made island of Palm Jumeirah, built in the shape of a palm tree and home to some of the most opulent hotels in the world. For those looking to soak in the culture, Dubai's opera and heritage district are full of historical landmarks and local museums. For the adventurer, there are few places as exciting as Dubai's desert dunes, where camel rides, desert safaris, and sandsurfing are on offer.  
Travelers can make their way to Dubai as passengers on Emirates, via the airline's daily flights from Phnom Penh International.  
Be daring -Dubai is waiting.  
More information about Dubai: www.visitdubai.com

Fly Emirates, Fly Better  
Cambodia Airports spoke with Emirates Airline's manager in Cambodia, Abdulla Adnan, about the many benefits and experiences that Emirates has on offer, for those travelling to Dubai and beyond.  
How has Emirates seen its service in Cambodia grow?  
Emirates began daily service on the Phnom Penh - Yangon - Dubai route in Cambodia in July 2017. We aim to grow the Emirates brand in the market and position ourselves as the airline-of-choice for both Cambodian citizens and expats. As of July 2018, we have carried over 170,000 passengers from Cambodia to Dubai and to other destinations on our flight routes.  
What are some of the most exciting recent developments for Emirates in Southeast Asia?  
Southeast Asia's travel industry has boomed with the variety of travel options available to customers in Cambodia. Today, Emirates is present in eight markets in Southeast Asia. Cambodia is the latest ASEAN country which we have added to our global network, and we are committed to seamlessly connecting Cambodians to our global network of more than 155 passenger destinations.  
How do you suggest passengers experience Dubai?  
Our stopover packages and exclusive added-value offers provide travelers with the opportunity to explore endless attractions in Dubai at preferential rates. Emirates' Dubai Stopover package provides a choice of over 99 hotels as well as a 'meet & assist' service at Dubai International Airport to help facilitate the airport formalities – which can be booked until 48 hours prior to departure. 
Book your stopover in Dubai: www.emirates.com