Hardworking, motivated and female: women in the aviation industry
Meet a few of the female employees working with Cambodia Airports in a new series of spotlights.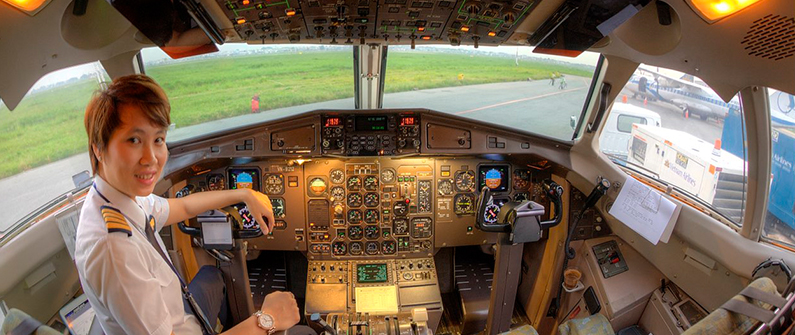 In honor of International Women's Day, which the world celebrated on March 8, Cambodia Airports has decided to spotlight several of the women who work daily to improve the aviation industry and defy stereotypes. For the first portrait of the series, we have interviewed women serving as pilots and captains of their own planes – an emblematic position of the aviation industry.
Spotlight: Meet the pilots flying through Cambodia Airports: Lanmei Airlines' Nicolette Ann Buenaflor Chow and Vietnam Airlines' Nguyen Ly Huong.
As young girls, both Nicolette and Nguyen used to look up at the sky, watch the white trails appearing behind the airplanes as they flew, and dream of flying their own planes.
But for Nguyen, a Vietnamese national, it seemed unlikely that she would be able to see her dream become a reality.
"Eighteen years ago in Vietnam, the country didn't have any female pilots," she explained. "Vietnam Airlines gave me a chance… and after nearly two years training in France, one other girl and I became the first two Vietnamese female pilots for Vietnam Airlines."
Now, 11 years later, Nguyen still loves her job –not only because flying was always her dream, but also because she now has the chance to see the world, meet new people, and work daily on improving herself.
Talented pilot Nicolette, who works for Lanmei Airlines, has been flying planes for over a decade, beginning her commercial flying career in 2004. Just like Nguyen, she was willing to undergo years' worth of flight and simulator training to acquire the licenses she needed to fly, and has manned both the slightly smaller Dornier-228 and the much larger Airbus 320.
She credits her success to the many talents that she –and all good pilots– possess, including clear communication skills, situational awareness, self-discipline, quick thinking and the ability to remain calm in the toughest of situations. Nguyen said the same, adding that a strong sense of depth perception, quick reaction time and the ability to operate aircraft computer and navigation systems are also key.
As much as both women love their job, though, there are downsides; working in a service industry, neither are able to be home often with their families for the holidays or on big occasions. Still, neither pilot would change a thing.
"I will always remember the day I flew my parents for the first time," Nicolette said. "I felt that I had made them really proud in this career that I had chosen… and my job has also helped me meet my better half."
"I love my job," Nguyen said. "I will never forget the first time I performed my own solo flight; even though it was only one hour in a small aircraft, it was just me, the plane, and the sky –and I was really happy."
Follow Cambodia Airports on Facebook: www.facebook.com/cambodia.airports/