International Children's Day 2019: Molding the next generation of aviation enthusiasts
On June 1, Cambodia Airports welcomed all traveling families with small children in tow to utilize the express lanes across the airports, including at check-in counters.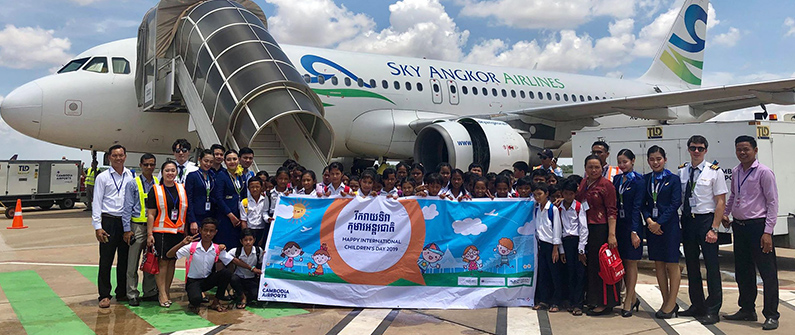 The airports also embraced the day as an opportunity to invite local schools and organizations to bring their students on guided tours of our airport facilities, during which the children had the opportunity to visit the inside of an aircraft and meet members of the cabin crew who shared their passion for their work and for the field of aviation.
The Cambodian Children's Fund, which serves impoverished and needy children in the Kingdom, brought several of its students to enjoy the tour at the capital's airport and explore the Cambodia Airways aircraft on display there, sparking joy and excitement as the children took photos in the cockpit. School children who visited our airport in Siem Reap were similarly able to explore a Sky Angkor Airlines plane, while those who toured our Sihanouk International Airport visited a plane on loan by Lanmei Airlines. 
Over the course of the day, more than 50 students and their chaperones in each airport attended all three of the guided tours, and all were treated to lunch by Emcat at the Taste of Asia. 
Each of the inquisitive young students were also awarded gifts during their tours, from both Cambodia Airports and from the individual airlines they visited. The gifts, big or small, provided each child with a memento of the day, helping to keep the magic of aviation alive in their hearts. 
More information about Cambodia Airports events:
https://corp.cambodia-airports.aero/ or www.facecook.com/cambodia.airports