Plaza Premium awarded and now sharing the love
Plaza Premium Lounge was awarded the Best Airport Lounge Operator in Asia at the TTG Travel Awards in October. The awards is a TTG Travel Trade Publishing event organized by TTG Asia as well as some TTG country partners.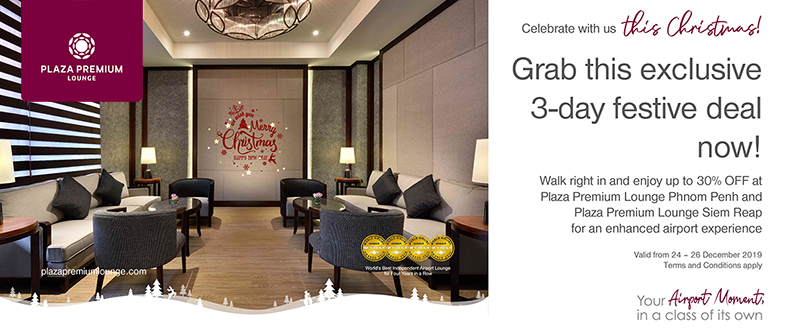 "The team has always been committed to provide consistently high services and continual improvement for valued customers," said Cheng Siew Yee, the company's regional head of marketing communications. 
He also noted that it is the first airport lounge network to achieve the International Organization for Standardization's "ISO 9001:2008" quality management certification in 2010. 
As for future plans for Plaza Premium Lounges, Cheng says that the group will ensure its "strong presence in the existing lounge in Cambodia Airports (Phnom Penh and Siem Reap) with exceptional lounge customer service. If there is any future juncture, we would like to provide one-stop service which comprises of all of our four pillars of business in Cambodia Airports – Plaza Premium Lounge, Aerotel (airport transit hotel), Airport Dining (individual dining outlet) as well as Allways (meet-and-greet service)."
In the meantime, Phnom Penh and Siem Reap passengers can try this award-winning service themselves during the Lounge's Christmas promotion period. From the day before Christmas through the day after (December 24-26), walk-in passengers can enjoy 30% off of the premium lounge experience.

Select the best for Christmas and save
Luscious hand creams and luxury perfumes, Swiss chocolates and French champagne, designer bags and priceless watches–at Christmastime, you want to show how special your loved ones are to you by giving them something extra special.
From the start of December to January 10, Dufry is offering a holiday promotion so that you can buy those closest to you the finest things in life. In Phnom Penh, they're offering up to 20% off second purchases after a purchase of at least $100, and in Siem Reap the discounts start after a $60 purchase. 

Enid Blyton books half price
Books by beloved British children's book author Enid Blyton have been entertaining children for almost 80 years. Stories that range from school antics to fantasy adventures and magic can never be outdated, igniting the imaginations of children of each generation about life's possibilities. Relay is offering 50% off of Enid Blyton stories so that you can light the spark for the next generation. 
Keep everyone on your shopping list in mind as you fly the Cambodian skies! 
Follow Cambodia Airports' activities on Facebook for latest promotions and offers.