TRAFFIC TRENDS
A new season brings growth and change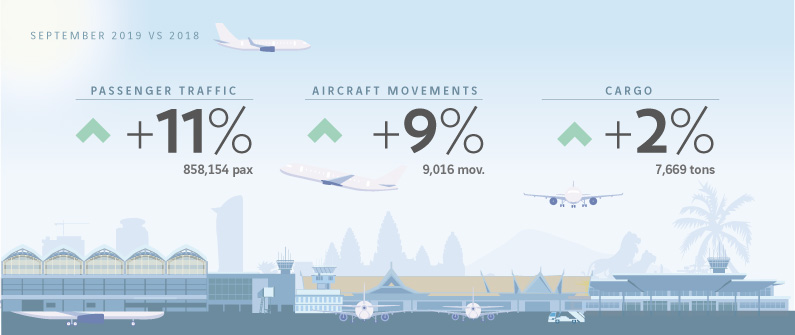 Bend and flex, contract and stretch. We're seeing a shift in how airlines are flying through our airports that represents neither loss nor gain, but rather a change in the physique as one would have from a new exercise regime. So how is our new body of flights shaping up?

New flights to the capital doing well
Phnom Penh remains a strong target for the Chinese market, with Air China's Beijing route, inaugurated earlier this year, seeing a steadily high load factor. New routes from both Manila and Jakarta on Philippines Airlines and Citilink Airlines, respectively, are also doing well and improving. 

Sihanouk a seat-filler for routes around the region
The country's rising star, Sihanouk International Airport, is showing a strong performance with Chinese airlines Xiamen Airlines (which launched its maiden flight to Xiamen on Sept. 23), Lucky Air, Loong Air, and 9 Air, as well as with regional airlines to destinations in Southeast Asia. All routes launched this summer to China, as well as Thai Air Asia's to Bangkok and Air Asia's to Kuala Lumpur, are showing load factors above 70%.

Domestic flights and Siem Reap markets contract
But as these new routes are coming in from other countries, domestic flights between the Kingdom's cities are contracting. And as Sihanouk sees a boom in traffic from China and the region, the city of Angkor has been dropping as a destination: Siem Reap has seen a decrease of almost a quarter of all of its passengers from this time last year. Malaysia Airlines is the latest to drop its direct flights from Kuala Lumpur. Generally speaking, there has been an overall drop this month in Chinese tourists headed towards Siem Reap, as can be seen by the load factors and decreased number of flights.
Follow Cambodia Airports' activities on Facebook