Phnom Penh Airport Welcomes Citilink's Inaugural Flight From Jakarta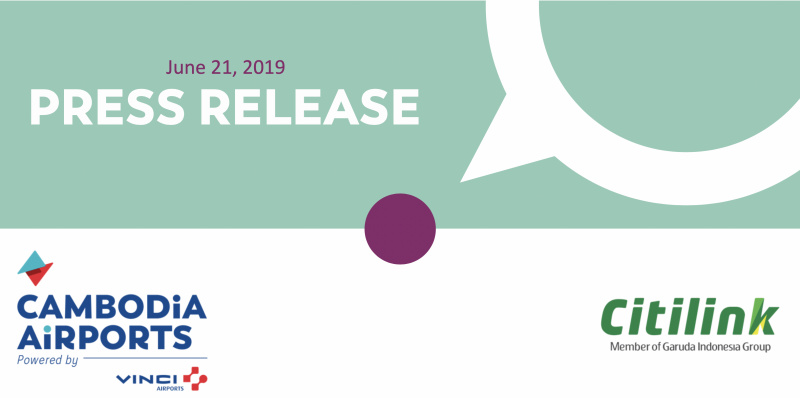 PHNOM PENH AIRPORT WELCOMES CITILINK'S INAUGURAL FLIGHT FROM JAKARTA
On June 21, Citilink, a subsidiary of Indonesia's flag carrier Garuda, starts direct flights between Jakarta and Phnom Penh. With the new liaison, Cambodia's network of international airports expands its connectivity to 9 out of the 10 ASEAN countries.
A total of 55 passengers were on board of Citilink's maiden flight from Jakarta that touched down at Phnom Penh International Airport at 14:20. The outbound flight from Phnom Penh departed at 16:30. Citilink uses a 180-seater Airbus 320 aircraft for the thrice-weekly flights operating on Mondays, Wednesdays, and Fridays.
The service will be conducive to grow air traffic between the two countries by offering direct flights that contribute in reducing travel time and in increasing travel options for visitors to/from Indonesia and Cambodia.
Mr Heriyanto, Vice President Corporate Strategy of Citilink Indonesia, said: "The launch of this new route serves also as a mean to commemorate the 60th year anniversary of Indonesia and Cambodia diplomatic relations. We are pleased to launch Citilink's direct flight from Jakarta to Phnom Penh to connect both capital cities. We hope that this new flight can strengthen the partnership between Indonesia and Cambodia. We also hope that this new direct flight can go beyond just connecting the two neighboring countries in Southeast Asia, but also to gain more partnership potentials in many sectors such as culture, economy, politics, social and many more."
Éric Delobel, CEO of Cambodia Airports, the company that operates the Kingdom's 3 international airports, said: "It is a breakthrough to both welcome a new carrier and to open a new route. Specifically, we had looked forward to serving Indonesia and its huge market. Recent launches of routes bode well for reaching again traffic heights at Phnom Penh International Airport when the year wraps up. To accommodate the expected growth, we continue investing in the expansion of our facilities and in the further improvement of our operational process while bolstering the quality of service to our customers."
About Cambodia Airports:
Under a public-private partnership signed with the Royal Government of Cambodia in 1995, Cambodia Airports holds the concession for the development and management of Cambodia's network of international airports serving the capital city of Phnom Penh, Siem Reap, home to the UNESCO World Heritage Angkor Archaeological Complex, and the port city and beach resort of Sihanoukville.
The shareholders of Cambodia Airports are France's VINCI Airports (70%) and Muhibbah Masteron Cambodia (30%), a Malaysian-Cambodian joint venture. VINCI Airports manages the development and operation of 46 airports in France, Portugal, the UK, Sweden, Serbia, Cambodia, Japan, the US, the Dominican Republic, Costa Rica, Chile, and Brazil. VINCI Airports is the second largest airport operator in the world, handling 240 million passengers each year and served by around 250 airlines.
In 2018, the number of passengers going through Cambodia's international airports totaled nearly 10.6 million, 5.4 million for Phnom Penh Airport and 4.4 million for Siem Reap Airport. From a low base but experiencing nearly triple-digit growth, Sihanoukville International Airport handled more than 650,000 passengers. All 3 platforms serve 55+ destinations and welcome 700 regular flights per week.
More comprehensive information is available on www.cambodia-airports.com
About Citilink:
Citilink is a subsidiary of the national flag carrier PT Garuda Indonesia (Persero) Tbk, which provides low cost carrier (LCC). Citilink serves city to city's low cost flights business model.
Currently Citilink has served more than 234 daily flights to 28 destinations namely Jakarta, Surabaya, Batam, Bandung, Banjamarsin, Denpasar, Balikpapan, Yogyakarta, Medan, Palembang, Padang, Makassar, Pekanbaru, Lombok, Bengkulu, Jambi, Semarang, Malang, Kupang, Pangkal Pinang, Tanjung Pandan, Solo, Palangkaraya, Pontianak, Manado, Aceh, Dili, and Phnom Penh.
As evidence of the success of the commitment to improve service to customers, Citilink has won several awards. Throughout 2015, Citilink has won new numerous awards, including Asia Best Employer Brand Award from Employer Brand Institute, Indonesia Original Brand and Middle Class Brand Champions from SWA magazine, Best eMark Award from Telkom University, and Top IT Innovation Award on Transportation of Kemenkominfo. While Indonesia Travel and Tourism Foundation Citilink Indonesia won for the category Leading Low Cost Airline for five consecutive years since 2011.
For more information about Citilink can visit www.citilink.co.id website, Facebook page and Twitter @citilink