TRAFFIC TRENDS
Taking the slow present to plan for the busy future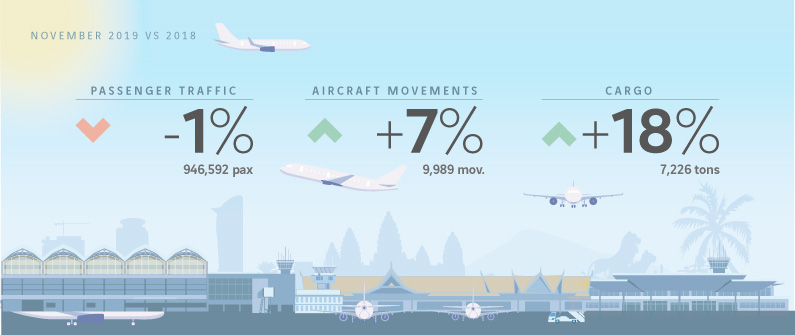 Phnom Penh sees new routes
Spring Airlines has created several new routes from the capital to cities in China. Launched in late October, the carrier's daily flights to Nanjing and Xian are performing well, and at the end of December they will begin a new daily year-round route to Chengdu. Cambodia Airways is also launching a flight to China at the end of the month – a thrice-weekly, year-round service to Shenzhen.

Not to be left out...
Following months of slowing numbers, Siem Reap is making an upswing as airlines also add multiple new routes to the city of Angkor. Lanmei Airlines launched a new twice-weekly service to Shenzhen at the end of November for the winter season as well as a weekly service to Dunhuang, the city carved into cliff caves in China. But they're not alone: JC International Airlines is now connecting Siem Reap to Bangkok's Suvarnabhumi Airport twice a week for the winter season.

Sihanouk Airport taking a breather 
Cambodia's recent wunderkind, Sihanouk Airport, is taking a bit of a backseat this month compared to its sister airports. There haven't been any new routes started this month, but year-on-year the number of passengers is up over 30%, so it's not a bad thing. It's just sharing the spotlight this time.
Follow Cambodia Airports' activities on Facebook