TOP PICK'S DESTINATIONS
Weekend Getaways
As JC Airlines announced its new direct route from Phnom Penh to Chiang Mai, starting March 10 and operating twice weekly, we couldn't help but start thinking about all the lovely tourist destinations one could easily jet off to from the Kingdom.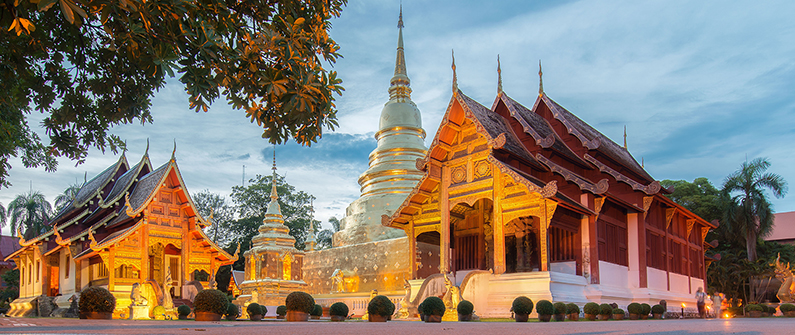 Chiang Mai
A bastion of both culture and natural beauty, Thailand's city in the northern mountains attracts those seeking to escape Bangkok's concrete jungle as well as foreigners looking to see another side of the country. Surrounded by mountains, the city is home to ancient temples and the more recent (700 years old) Wat Phra That Doi Suthep, a venerable pilgrimage destination that gleams under a 24 meter tall, gold monument. The surrounding national parks are resplendent with waterfalls, hiking trails, and elephant sanctuaries. City-center is home to arts and handicrafts museums and highly-rated restaurants.
More information: https://www.tourismthailand.org
Phuket
On the other side of the country is the popular beach destination Phuket. Sitting on the Gulf of Thailand, the large island has many different beaches – those filled with activities for tourists or hidden ones for some secluded R&R. In the center of the island one finds mountains and greenery – as well as giant Buddha overlooking all. Take a drive through their windy hills to discover cafes favored by yogis, or stay on the coast and use it as a launching point to other nearby islands.
Thai AirAsia flies directly to Phuket from Phnom Penh three times a week.
More information: https://corp.cambodia-airports.aero
Da Nang
Vietnam's coastal city halfway between the north and south is a foodie and nature destination, known for its close proximity to quaint and historic village Hoi An as well as to sacred cave temples in the surrounding mountains. Beach lovers don't have to travel far to also enjoy highlights of Vietnamese cuisine in the city's many rated restaurants.
Fly direct from Phnom Penh four days a week, or from Siem Reap six days a week, on Cambodia Angkor Air.
More information:  https://danangfantasticity.com
Vientiane
Laos' capital is a testament to its history – a mix of Buddhist temples and French colonial architecture. The 44-meter-high golden Pha That Luang stupa, which dates back to the 3rd century, is a national cultural symbol that stands out among the city's many ancient temples. The 20th-century Patuxai Victory Gate war memorial, modeled on Paris' Arc de Triomphe mixed with traditional Laotian design and set on a light blue pool, commemorates the country's independence from France. And besides the food and goods, the Vientiane Night Market is also known as a fabulous spot to take in the sunset.
Vietnam Airlines has a daily direct flight between Phnom Penh and Vientiane.
More information:  https://www.tourismlaos.org
Yangon
The largest city in Myanmar with a population of over seven million, Yangon is a destination for business and culture as well as greenery and waterfronts. The religious and cultural apex is the massive golden Shwedagon Pagoda, measuring 99 meters high and dominating the city skyline.  After the country opened up almost a decade ago, the former capital has also become a foodie destination, with high-end restaurants preparing traditional dishes (and also non-traditional dishes) in innovative ways.
JC Airlines flies direct between Phnom Penh and Yangon every Friday and Sunday.
More information: https://tourisminmyanmar.com.mm/yangon